Web-based Groupware System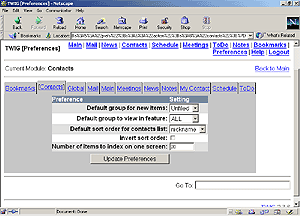 The Web-based Groupware System is a suite of integrated applications tied together to allow easy and reliable communication among employees. It is comprised of several parts:
Email: Manage your email from any web browser. The system also has a complete contacts manager (see below) that can hold all of your addresses. All of the features that are normally in desktop email software are included!
News: Configure for your favorite newsgroups and read and post to them.
Contacts: Manage all of your contacts, or import them from your current email software (Outlook, Netscape, Eudora, etc).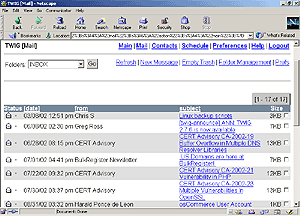 Schedule: Add and review events in a calendar interface to stay organized. Or use the calendar area to view previous years, as a perpetual calendar.
Meetings: Schedule meetings amongst other individuals, with reminders.
ToDo: Manage your own personal todo lists.
Notes: Take other miscellaneous notes for later retrieval.
Bookmarks: Now you can save and retrieve your bookmarks (favorites) from any computer on the Internet, using the built-in interface.
Preferences: Customize the way the system works for you.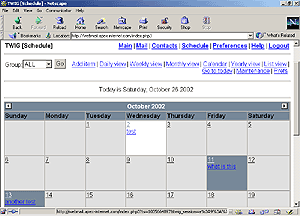 Help: Get help with the built-in help system.
Since the system is web-based, it can be accessed from any computer that is connected to the Internet. This means that you can always get to your complete email, schedule, etc. from anywhere with just a web browser! This system can be used seamlessly with email and/or news accounts here at Apex (in addition to our free web-based email system).