Email List Manager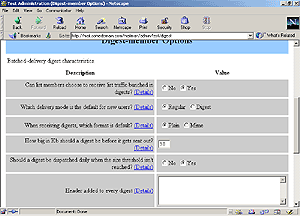 The Email List Manager is a powerful interface for managing all types of email mailing lists. From bulk email broadcast lists to specific interest groups, our list manager keeps track of lists and has automated features to make it easy. It allows users to subscribe, unsubscribe, and change their account options over the web. A list of features for this system include:
Web based list administration for nearly all tasks, including list configuration, moderation (post approvals), management of user accounts.
Web based subscribing and unsubscribing, and user configuration management. Users can temporarily disable their accounts, select digest modes, hide their email addresses from other members, etc.
A customizable home page for each mailing list.
Per-list privacy features, such as closed-subscriptions, private archives, private membership rosters, etc.
Configurable (per-list and per-user) delivery mode
Regular (immediate) delivery
MIME digest
Plain (RFC 934) digests
Integrated bounce detection within an extensible framework. Automatic disposition of bouncing addresses (disable, unsubscribe).
Integrated spam filters.
Automatic web-based Hypermail-style archiving, with hooks for external archivers such as MHonArc.
Integrated Usenet gatewaying.
Integrated auto-replies.

Related Links:

Pricing & Services
Get A Quote
Sign Up
Ask A Question

Majordomo-style email based commands.
Multiple list owners and moderators are possible.
Support for virtual domains.
An extensible mail delivery pipeline
This system is very robust and powerful, and ties in seamlessly with all accounts hosted here at Apex.