Online Survey System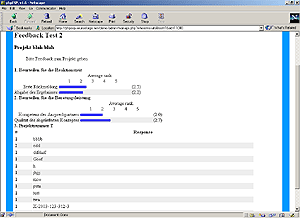 This system takes the pain out of creating a survey, and will allow you to get yours online and running in no time. A simple and unique wizard interface allows you to create your survey step by step, preview, and activate it. Then check your results and view a report of the answers, or export the data for further analysis in the software of your choice!
Main features include:
A simple and clean interface
Support for mutiple types of questions:

Mutiple choice (single or multiple selection)
Questions and answers
Essays
Ratings/feedback scales

Preview mode to examine the layout and wording
Duplication of previous surveys
Survey activation and ending with the administration interface
Access limitations for respondents
Direct survey results viewing within the system
Cross-tabulate survey results

Related Links:

Pricing & Services
Get A Quote
Sign Up
Ask A Question

Survey reports available directly within the system
Export survey data as a CSV file for use in any data analysis program.
Manage designer and repondent accounts
For more information & pricing on our other services, please visit our Pricing & Service Page.