Secure Web-based Email System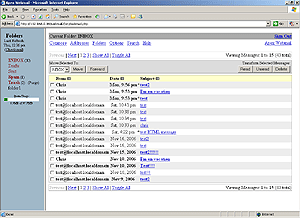 With every email account you will be able to use our FREE and secure Web-based Email System. This is ideal to keep in touch with your email from any location that has an ordinary web browser.
With this integrated into one easy-to-use system, you will be able to keep in touch and stay organized more easily. Now you can get easy access without installing any software, which also makes it immune to viruses! No ads or popup windows, just easy and fast access to your email.
Plus, we use SSL technology so that the connection from your computer to our server is always encrypted. And, this connection is encrypted the entire time you are accessing your mailbox, not just at the signon screens like other web-based email systems.
With our Web-based Email System, you will also get:
Complete Spam Management
Comprehensive spam filters that prevent junk email from reaching your Inbox.
Automatic Email Filtering
Places incoming mail in folders based on criteria set.
Complete Folder Management
Place mail in to folders and stay organized. Separate mail based on its purpose (i.e. a specific project).
Automatic Message Purging
Deletes messages by their age, without you being logged in.
Vacation Message (Auto-reply)
Automatically notifies people for you, while you are away.
Email Forwarding
Forward filtered or unfiltered email to any external account(s).
Virus-Free Messages
All messages are scanned for viruses before they reach your Inbox.
Integrated Spell Check System
Complete and easy-to-use spell check system.
Integrated Help System
Help is built right in to the system. No need to visit external sources to find the help you need.
Customized Look and Feel
Select from many themes and organize the layout as you see fit.
100% Privacy Protection
We protect your privacy; we never scan or filter your email content, unlike some free email providers which scan email to place ads.
100% Ad Free Email
Our Webmail system is completely free of ads and other popups.
Related Links:

Email Hosting
Pricing & Services
Get A Quote
Sign Up
Ask A Question
For more information & pricing on our other services, please visit our Pricing & Service Page.