Email Hosting
Apex Internet Solutions offers email hosting solutions for any type of business, organization, or individual. We offer POP3 accounts, FREE secure web-based email access, and many included features like Spam Protection, Virus Protection, Email Forwarding, Email Mail List Services, and much more. All email accounts we host are associated with your own domain to provide yourself a professional image. If you need to register a domain, no problem, we offer Domain Registration as well.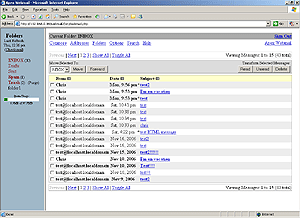 Free Web-based Email Access
If you sign up for any POP3 Email Accounts, you can also take advantage of our free secure Web-based Email System. This allows you to log in, check, and manage your mail from any location where you have a web browser and an Internet connection. Get fast and easy access to your mailbox without any popups or ads! It's also great for fixing common problems with your mailbox that can cause problems with your normal email software. Our system is also 100% secure which means all data transferred from your PC to our server is encrypted. This is ideal for people on the go or checking from a public computer as well.
We also never scan your email content for ad keywords, unlike some providers who scan content to place relevant ads.
Secure, Encrypted Email Access

Our email services are secured with 128 bit SSL encryption. This includes access to your mailbox with our web-based Webmail system with any regular Internet browser, or with direct POP3 access so that you can use your favorite email software. Unlike other email services, these connections to our servers are secure at all times, not just during the signon screens. This means whether you are using a public computer or at your home computer, ALL of your data is encrypted from the computer to our servers, to help avoid any data getting intercepted or read.
Privacy

We never scan or filter your email for content. And we never share, resell or market any of your information to marketing companies. Your email is your property and we respect your privacy.
Many other companies that offer email services also filter and scan your email to tailor ads to appear on your screen. To us, this is an invasion of privacy. Countless incidents have been documented regarding scanning of customer email.
Friends and Family Program

Refer your family and friends to Apex email services and enjoy secure email communication among everybody. Email sent from one Apex customer to another never touches the Internet. This completely avoids any information in email from being intercepted by outside parties.
Ad-Free
Our email services are completely ad-free. Unlike many email providers, we do not put in extra text in the headers and footers on your messages to advertise our services. We also don't place ads on the screen in our Webmail system which eliminates clutter on your screen. Our Webmail sytem is very efficient and utilizes the entire screen for maximum productivity.
Spam Protection
| | |
| --- | --- |
| | Our email services all include spam protection that filters all incoming email through our systems, and to your mailbox. We use a service called RBL (realtime blacklist), which stops known spam immediately when it reaches our servers. This helps ensure that no known spam reaches your mailbox. RBL services we use are: |
We also utilize SpamAssassin, a sophisticated and very effective spam filtering system. You have the flexibility to set your spam threshold in your own email account, as well as set up whitelists, blacklists, and much more.
Virus Protection

Our email services also include virus scanning protection that scans all incoming and outgoing email through our systems. This helps ensure that your mailbox stays clean from malicious viruses and worms that travel the Internet. Since the scanning takes place directly on our servers, there is no need for you to install extra software, as all of the scanning takes place behind the scenes.
Email List Manager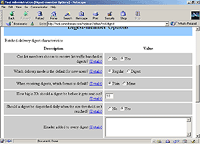 Our Email List Manager provides an easy way to have multiple address lists. You simply send one message to our server and it will send to all members of your Mail List. Our Mail Lists are compatible with all email accounts, whether the accounts are hosted at Apex or other ISP's. You can set up your Mail List so all members can send to the entire list (open list), or set it up so a group or one user can send to the entire list only (moderated list). You can easily configure these options and manage your Mail List with an ordinary Web browser, or with email by sending messages to the server that contain commands for the Mail List. See more about our Email Mailing List Manager (web-based management interface) here.
About Our Hosting Services
Related Links:

Web-based Email System
Email List Manager
Website Hosting
Pricing & Services
Get A Quote
Sign Up
Ask A Question
Apex offers other services in addition to the basic web hosting rate. This gives you the flexibility to add services as you please. If you need montly statistics, no problem. If you want to register multiple domain names for your website, no problem. Our Pricing page lists all of our services for you to choose from.
Our basic Website Hosting starts at just $4.95 a month, no contract required, and never any setup fees! We allow you to add services at any time, that way you only pay for the services you need to use. Additional services include the following:
CGI-BIN scripting support for UNIX & Windows
Database connectivity support (including MySQL, PostgreSQL, Microsoft SQL, and Microsoft Access)
Microsoft FrontPage Support (for FrontPage 98, 2000, 2002 and newer)
Microsoft Active Server Pages (ASP) Support
WebTrends Monthly Statistics Reports
(click here to see more)
128-bit SSL Encryption
POP Email Accounts (with FREE Web-based Email System)
(Click here to see more)

Domain Registration
Domain Name Aliases
Automatic Domain Renewal
RealMedia & Microsoft Media Audio/Video Content
Free Web-based Email
Many web hosting companies combine items like these into packages, often times charging for services that their customers do not even use. By allowing you to select what items you will need, you can ensure you are getting exactly what you are paying for.
Additionally, you can save up to 15% by signing a Hosting Agreement Contract with us, for 1-3 years. However, we do not require you to sign a contract, if you wish to pay for your services on a month-by-month basis. More details can be found on the Pricing page under Terms and Conditions. You can also visit our Pricing page for a complete list of all of our services.