Our Design Portfolio
Want to see some of our work? Here are some of the sites we have been working on.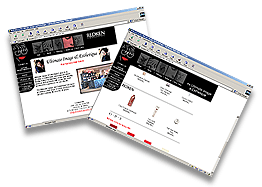 Ultimate Image & Esthetique
http://www.ultimateimagesalon.net
The Ultimate Image & Esthetique wanted a website to show all of their products and services to the Internet. Apex designed the site with this in mind, giving them Internet exposure, detailing the various services and products they offer.
Greater Lansing Potters' Guild
http://www.glpg.org
The Greater Lansing Potters' Guild came to Apex looking for a website to serve many purposes. The Guild not only wanted to have information about itself, but a place for all members to communicate, see upcoming events, and much more.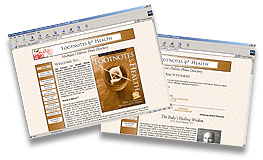 Footnotes For Health
http://www.footnotesforhealth.com
Footnotes For Health is an organization that needed exposure to the web, to provide clients with electronic copies of their documents, as well as provide an online source for their published directory. Apex provided them a professional site and got their documents into electronic form on the website in HTML and PDF formats.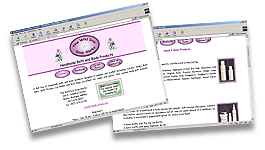 The Wild Iris Soap Works
http://www.wildirissoap.com
The Wild Iris Soap Works is a small shoppe providing homemade bath and beauty products. The Wild Iris needed a way to display their products online, and provide an easy way for customers to order. Apex designed a customized website, and an online store listing all of their products, available for people to order by credit card or for store pickup, 24 hours a day, 7 days a week.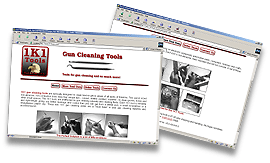 1K1 Tools
http://www.1k1tools.com
1K1 Tools has a set of very specialized gun-cleaning tools and needed a website for Internet exposure. Apex designed the website to provide fine details about the tools, as well as easy ordering and complete exposure on the Internet.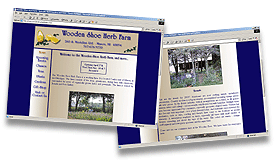 Wooden Shoe Herb Farm
http://www.woodenshoeherbfarm.com
The Wooden Shoe Herb Farm needed a website to get an Internet presense, in order to publish information about their business online. Apex designed a custom website specifically tailored to publish information such as events, classes, product information, general information, gift shop items, and contact information.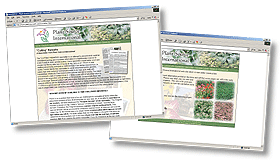 Plant Source International
http://www.plantsourceintl.com
Plant Source International, a worldwide supplier of seedlings, needed a website to keep their customers close by providing instant online availability lists, online newsletters, seedling culture information, contact information, and more. Apex responded and designed a custom website, providing Plant Source International a base for all of this information.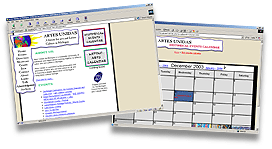 Artes Unidas
http://www.artesunidas.org
Artes Unidas is an organization supporting Latino Art in Michigan, and came to Apex for a complete redesign of their existing website. Artes Unidas also wanted to provide two online calendar systems for users to post current and historical events. Apex provided them with a new and renovated look, as well as a customized calendar system to suit their specific needs.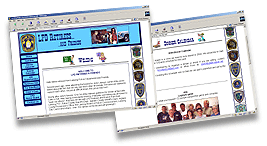 Lansing Police Department Retirees & Friends
http://www.lpdretirees-friends.org
Retirees of the Lansing Police Department needed a website to stay in touch with each other, and with their own current events and happenings. Apex built a website, that served just this purpose. Members of the site can list their businesses, hobbies, and much more for others to see, as well as take advantage of a bulletin board for cross conversation.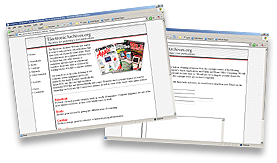 ElectronicArchives.org
http://www.electronicarchives.org
This website was started to preserve computer magazines that have been out of print for many years. The original focus was to post magazines for the Apple II series computers, then expand to material for other computer systems depending on the demand and requests, as well as available material to be scanned. This website is fully sponsored by Apex with support from its website hosting, website design, and document conversion services.
Click here for some of our past work, that has been archived.
.
.
.
.
.
.
.
Related Links:

Custom Website Design
Pricing & Services
Get A Quote
Sign Up
Ask A Question
Hosting Services
Pre-built Specialized Web Systems
More than just design
Apex provides complete Website Hosting services along with our Custom Website Design. Hosting the sites we create gives us infinite design possibilities, because we are not limited on what our own servers can do. From basic sites for simple Internet presence, to more complex web-based applications, we can build a custom site just for you. We also offer pre-built templates and web systems, that are already created and ready to add to your website, saving you all of the development costs.
You can click here for more on our Website Design Services or see the related links at the right. . .