Our Design Portfolio - Archived Websites
Want to see some more of our work? Here are some of the sites we have designed, that are not currently active.
Vintage Market & Cellar Company
http://www.vintagemarketcc.com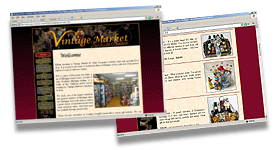 Vintage Market & Cellar Company came to Apex in search of a way to place information and products online about their small town shop, as well as create an online customer base for emailing out frequent newsletters. Apex set up a custom website for Vintage Market, and provided an online mailing system so the newsletters could be sent out. Customers could use the website to browse products and information, as well as sign up for the newsletter.
Budget Automart
http://www.budgetautomart.com
Budget Automart is a small used car dealership. Budget needed a website to put information about themselves online, as well as provide an electronic credit application for customers to fill out online. Apex designed the site with the basic principles in mind, and provided a complete and customized website to suit their exact needs.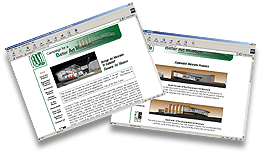 Campaign for a Better Art Museum (BAM)
http://www.bamatmsu.org
The Kresge Art Museum of Michigan State University needed to expand, and needed a website to portray the designs and features of a new tentative museum. Apex gathered the information and created a website with every aspect of the new museum, including floorplans, backgrounds of the architects, and much more.
Keep Mayor Tony Benavides
http://www.keepmayortonybenavides.org
Mayor Tony Benavides was seeking re-election for the state's capital city, Lansing, Michigan. He needed a website to serve several important functions: publish information about the mayor, allow volunteers to register to help, allow citizens to post their concerns to an online bulletin board, and most importantly allow supporters to register and donate directly online. Apex responded to the tasks and designed a website complete with an online bulletin board system.
Click here for the latest websites that we have been working on.
Related Links:

Custom Website Design
Pricing & Services
Get A Quote
Sign Up
Ask A Question
Hosting Services
Pre-built Specialized Web Systems
More than just design
Apex provides complete Website Hosting services along with our Custom Website Design. Hosting the sites we create gives us infinite design possibilities, because we are not limited on what our own servers can do. From basic sites for simple Internet presence, to more complex web-based applications, we can build a custom site just for you. We also offer pre-built templates and web systems, that are already created and ready to add to your website, saving you all of the development costs.
You can click here for more on our Website Design Services or see the related links at the right.